C. Topic Box:
The following chart provides a breakdown by category of estimated provincial net debt outstanding at March 31, 1997. Further details are provided in Tables C6 and H7.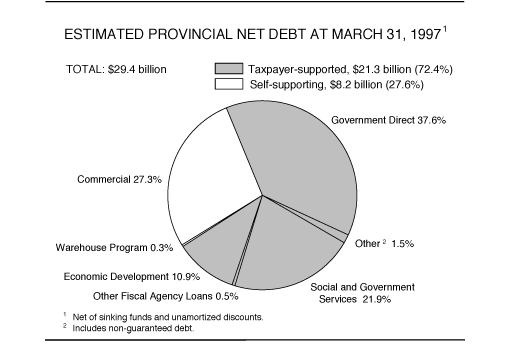 Self-Supporting Debt:
Commercial Crown corporations finance the construction and maintenance of transmission lines and generating facilities in the case of BC Hydro, and rail system and dock facilities in the case of BC Rail. These corporations are self-supporting as they generate revenue from the sale of services at commercial rates and pay their own operating expenses, including debt service charges.
Warehouse borrowing program takes advantage of market opportunities to borrow money in advance of actual requirements. This debt will eventually be allocated to either the provincial government or its Crown corporations and agencies to meet future requirements.

Taxpayer-Supported Debt:
Provincial government direct debt funds government operations, including refinancing of maturing debt and other financing transactions.
Economic development Crown corporations and agencies finance ferry terminal and fleet expansions, public transit construction and maintenance projects, and highway construction projects around the province. Although these corporations and agencies sell services directly to the public or receive dedicated revenue, their revenue may not totally cover their operating expenses. In these cases, the government may provide grants or other forms of assistance.
Social and government service Crown corporations and agencies finance construction of hospitals, schools, post-secondary educational institutions and justice facilities. Debt service requirements are met through provincial grants or rental payments and, for hospitals, partly through local property taxes.
Other fiscal agency loans finance the construction and maintenance of post-secondary residence and parking facilities. Debt service requirements are met through user fees.
Loan guarantees to private sector firms and individuals are provided by the provincial government through various programs including student financial assistance. Loan guarantees do not represent direct obligations of the government except in the event of default by the borrowers who received the guarantee.
Non-guaranteed debt consists primarily of mortgages which were incurred by a government body without a provincial guarantee.
---
In June 1996, the government announced a review of capital expenditures to determine appropriate levels of investment and to improve the planning, construction and maintenance of capital. The review concluded in January 1997 and identified over 100 potential cost containment strategies which should save approximately $200 million annually.
The potential cost containment strategies fall into four categories:
program delivery models which require less capital investment;

maximizing the use of existing assets;

acquiring capital in the most efficient and cost-effective manner possible; and,

pursuing alternative financing options.
Some examples of the recommended cost containment strategies are:
Require high-growth school districts to extend the hours of operation at secondary schools prior to building new space or replacing existing space.

Develop more joint use facilities such as: joint secondary school/college facilities and school and community facilities.

Require all post-secondary institutions to extend weekly hours of operation and consider the feasibility of year-round programs at existing facilities.

Invest in electronic technologies to cost-effectively deliver post-secondary programs.

Extend the hours of operation for diagnostic and treatment equipment such as linear accelerators used in cancer treatment.

Examine the feasibility of extending the hours of operation in the courts.

Reduce building space standards and unit rates for the cost of construction.

Investigate road and bridge tolling to finance new infrastructure.

Develop transportation demand management programs to reduce the need for new highways.

Continue discussions with the Greater Vancouver Regional District on the future funding and operation of British Columbia Transit in the lower mainland.
The review also recommended that agencies explore the full range of public-private partnership models and implement the recommendations of the report of the Task Force on Public-Private Partnerships, which was released concurrently with the capital review report.
Specific recommendations of the capital review which encourage public-private partnerships include:
Exploring public-private partnership opportunities for long term care facilities.

Seek public-private partnership opportunities in transportation (e.g. Mt. Washington ski hill where a portion of each lift ticket is used to finance the access road).
The capital review, based on advice and recommendations from the construction and design industry, led to the announcement that an advisory committee on procurement will be appointed to enable the government to work with industry on contracting, tendering, project management and other related issues.