The following electronic version is for
informational purposes only.
The printed version remains the official version.

BUDGET 97: BROCHURE
Ministry of Finance and Corporate Relations
Province of British Columbia

---
---

Ministry of Finance and Corporate Relations
Honourable Andrew Petter, Minister
Budget 97 Creating Jobs
Protecting Health Care
and Education
Cutting Spending
---
Message from Minister of Finance Andrew Petter
This budget is consistent with the priorities of British Columbians and is based upon prudent economic assumptions.
We're delivering on our commitment to create jobs, protect health care and education, and ease the burden on middle- and lower-income British Columbians.
And we are achieving this in a fiscally responsible manner.
Yearly spending is down for the first time since 1958 -- and the projected provincial deficit is the smallest this decade.
With the anticipated improvement in the economy this year, and a federal commitment not to further reduce transfer payments, we are establishing a solid foundation for the future.
The budget cuts the deficit by more than half of what it was last year. And our financial management plan places us in position to put the budget in balance in 1998/99, and to achieve a surplus in the year that follows.
I'm confident the road we've chosen -- to protect job creation, health care and education while reducing the deficit in a careful, prudent way -- is the right one for the people of British Columbia.
Andrew Petter
Minister
---
Jobs Strategy for B.C.
A jobs strategy will support the creation of 40,000 new jobs this year, building on the best job creation record in Canada. It includes:
Investing $1 billion in schools, hospitals and transportation infrastructure to create more than 13,000 jobs.

12,000 new jobs for young people through a $23-million Guarantee for Youth program.

Pursuing a Jobs and Timber Accord with the forest industry with the goal of creating 21,000 new forest sector jobs by 2001.

Creating a new agency to promote tourism in partnership with the tourism industry.

Promoting growth in the airline industry through a phased reduction to the international jet fuel tax rate from four cents per litre today to two cents per litre by 1999.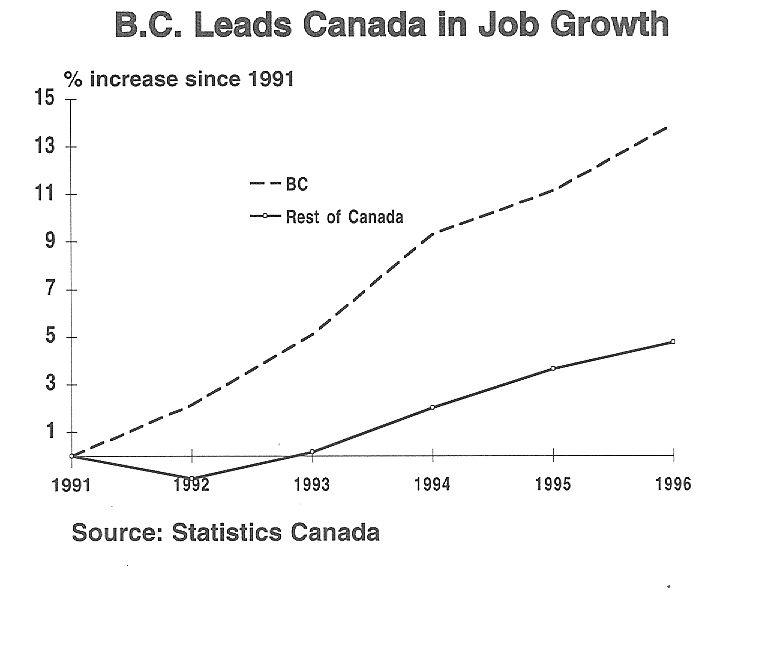 Encouraging small business job creation and continuing the income tax cut and the income tax holiday for eligible new small businesses -- reducing costs by $29 million.

Working with B.C.'s high-growth film industry to expand opportunities and encourage Canadian productions.

Developing Fisheries Renewal BC to reinvest profits, conserve the fish resource and protect jobs.

Replacing welfare with training for young people through the $20-million YouthWorks initiative, which will help 40,000 youth this year.

Establishing a forum for business, labour and government to develop economic strategies to generate employment, increase investment and protect competitiveness.
Protecting Health Care and Education
While overall spending is down, spending on health care and education is up.
Health care is protected with an increase of more than $300 million to fund hospitals, physician services and to reduce surgery wait lists.

Education is protected with a $63 million increase in the K-12 school system.

$300 million to build and improve public schools.

2,900 new spaces for students at universities and colleges.

Tuition freeze is maintained to help B.C. students.
Supporting B.C. Families with Tax Cuts and Rate Freezes
Working British Columbians get help to make ends meet.
Provincial income tax rate reduced another two per cent this year, building on the two-per-cent cut last year -- more than $142 million annually for B.C. families.

The BC Family Bonus will provide $235 million in support for more than 200,000 lower- and middle-income families.

ICBC premiums, BC Hydro rates and post-secondary tuition fees remain frozen.

Tax cuts and rate freezes mean the average B.C. family saves up to $700.
A Financial Management Plan
B.C.'s finances on a sound footing for the future
The budget includes a financial management plan to:
Reduce this year's deficit to the smallest this decade.

Balance the budget in 1998/99 and achieve a significant surplus in 1999/2000.

Set capital spending at $1.1 billion annually for the next three years.

Cut B.C.'s debt ratio to 20 per cent of GDP over three years and reduce it to 15 per cent by 2015, as recommended by a private sector advisory group.

Keep B.C.'s debt servicing costs, now under eight cents of every revenue dollar, among the lowest in Canada.
Prudent economic assumptions
While B.C.'s economy is forecast to grow 2.2 per cent this year, the budget's revenue forecast is based on a prudent assumption of 1.6 per cent growth in the economy.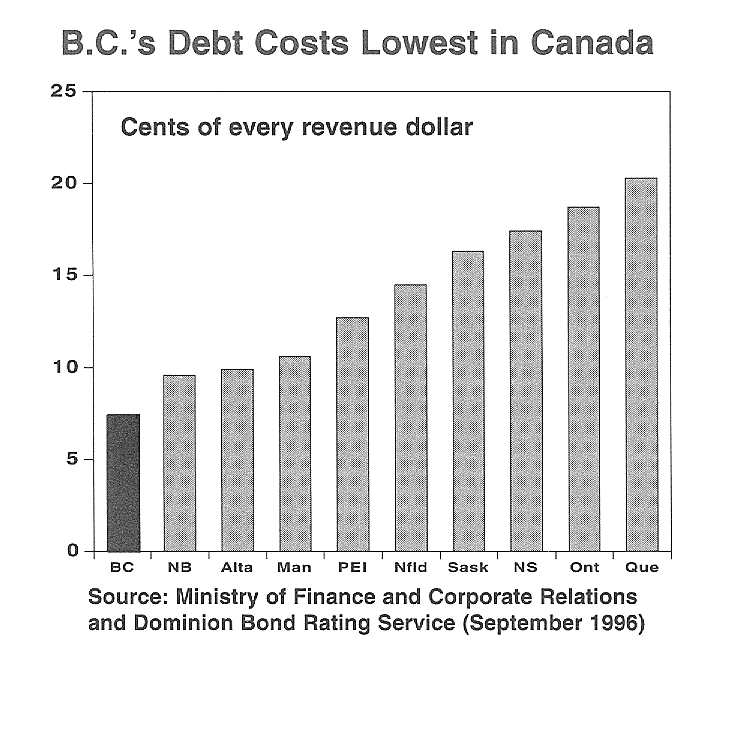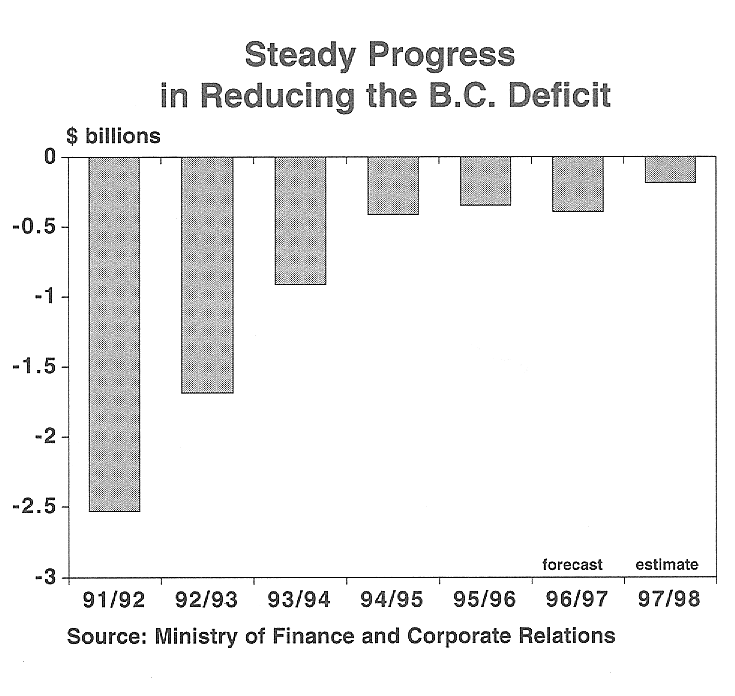 Spending drops for the first time since 1958
In 1997/98, the province will spend $100 million less than last year -- the first decline on a year-to-year basis since 1958.
Deficit cut to smallest this decade
1997/98 projected deficit is $185 million -- less than one-half the size of last year's.
1997/98 Budget at a Glance
Revenue = $20.286 billion
Spending = $20.471 billion
Projected deficit = $185 million
-- lowest this decade.
---
---
BC Ministry of Finance and Corporate Relations
---
If you have questions or comments about content please contact: Communications Branch