REGIONAL ECONOMIC DEVELOPMENTS
There was considerable variety in economic performance in the province's regions in 1997. Employment grew in several regions, but poor markets for forest products and base metals boosted unemployment in other regions. Housing market strength varied across the province.

Population
British Columbia's population grew 2 per cent in 1997. All regions experienced population growth, with the Cariboo and the Thompson/Okanagan economic regions growing the fastest. The Mainland/Southwest continued to attract a majority of the people moving to British Columbia.

Employment and Labour Markets
Most regions experienced employment growth in 1997 (see chart). Growth was strongest in the Vancouver Island/Coast region, at 4 per cent, and the Northeast region, at 3.9 per cent. Employment declined 0.3 per cent in the Kootenays and 3.5 per cent in the Cariboo. The decline in the Cariboo was due to the completion of several major construction projects in Prince George in 1996. Changes in regional unemployment rates ranged from a decline of 2.5 percentage points in the Northeast to a 1.5 percentage point rise in the Cariboo and North Coast/Nechako regions.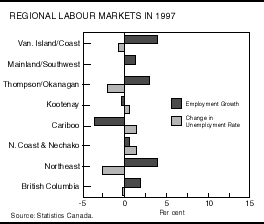 Housing Starts and Sales
Lower levels of in-migration contributed to mixed housing markets in 1997. Provincial housing starts increased 6.2 per cent while urban housing starts increased 1.9 per cent. Sales of existing homes fell 5.5 per cent.
Housing starts in Victoria rose 14.8 per cent in 1997, while home sales fell 3.1 per cent. In Vancouver, housing starts increased 3.2 per cent, but home sales fell 5.6 per cent. Housing starts were strongest in the Okanagan. Although interest rates remain low, increased consumer uncertainty and reduced in-migration to the province point to a softer housing market in 1998.

Other Regional Developments
Most resource-dependent regions saw slower growth in 1997, due to weaker commodity exports. The forest industry has been especially hard hit. Since coastal lumber mills are primarily geared to the Japanese market, they have been hurt the most. However, several sawmills in the Interior have been forced to shut down temporarily due to poor market conditions. In addition, workers at the Fletcher Challenge pulp and paper mills in Crofton, Elk Falls and Mackenzie have been on strike since mid-July.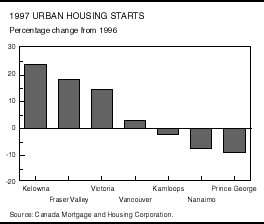 The North Coast had a particularly difficult time in 1997. The Skeena Cellulose pulp mill and related logging and sawmilling operations were closed for several months and the Alaska ferry service was temporarily suspended in August. Many forest operations extended their normal winter shutdowns. Combined with a downturn in fishing activity, these events had a major impact on the Prince Rupert area. With ferry service resuming, talks underway to resolve fishing issues, and Alaska, British Columbia and the federal government working together on tourism promotion, the region's outlook for 1998 is better.
Low prices, weak demand and high inventory levels caused mining production to decline in 1997, hurting the Cariboo and the Thompson/Okanagan regions. Both the Northeast and the Kootenay regions benefitted from increased coal production. The Northeast mines recently signed contract extensions with Japanese steel producers, albeit at lower prices. The value of natural gas production in the Northeast soared 27 per cent in 1997. The region has also benefitted from increased natural gas exploration.
Agriculture and agri-food industries played a role in the strong economic performance in the Thompson/Okanagan region. While the grain harvest in the Northeast was worse than expected due to unusually wet weather, pork production in the region began to expand as changes to the grain transportation system made value-added industries more economical. Province-wide farm cash receipts rose 14.5 per cent in 1997.
Two new mines opened in 1997 -- the Mount Polley copper mine in the Cariboo in September and the Huckleberry copper mine in the Nechako in October. The gross value of British Columbia mine production increased 2.6 per cent last year.
The Kemess South copper-gold mine in the Northeast is scheduled to begin production in 1998. However, Royal Oak Mines recently indicated that it will need a large cash infusion to complete construction on the Kemess mine. In addition, the Quesnel River gold mine suspended operations, while the Gibralter copper mine near Williams Lake is scheduled to shut down at the end of 1998.
Looking ahead, two proposed mines recently received provincial approval -- the Willow Creek coal mine near Chetwynd and the re-opening of the Tulsequah Chief metal mine south of Atlin. In southwest British Columbia, hotel construction and more airport expansions are underway, while several office and commercial developments are planned.