Ministry of Finance and Corporate Relations
Joy K. MacPhail, Minister


This electronic version is for informational purposes only.
The printed version remains the official version.

---
Message from Minister of Finance
Joy K. MacPhail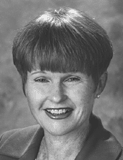 We believe health care is a fundamental right that must be protected.
We believe every child deserves a quality education, regardless of their parents' income.
We believe in cutting taxes for small businesses to help create jobs for people — because that's where the opportunities for the future are found.
These are our priorities. These are our choices.
In this budget, we're improving health care, making sure our kids get the quality education they deserve, and helping small business through tax cuts.
The coming century promises to be full of opportunity.
Let's work together to ensure that opportunity is shared by all British Columbians, for a healthy and prosperous future.
Joy K. MacPhail
Minister
---
Improving Health Care,
Helping Small Business Create Jobs
Improving Health Care
"This budget gives health care an additional $615 million."
maintaining the highest level of per-capita health funding in Canada — $1,963 per person per year
increasing the Pharmacare budget by 13.4 per cent, or $64 million
$359 million in funding to build, expand and improve hospitals and other health care facilities

More Beds
$21 million increase to fund 480 long-term care beds

More Nurses
$15 million to hire 400 more nurses

Shorter Waits
58,000 more surgeries and other medical procedures this year:
10,000 more cancer treatments
1,000 more hip and knee procedures — a 22 per cent increase
700 new cardiac procedures
38,000 more women receiving screening mammograms
Tax Cuts for Small Business to Create Jobs
and Diversify the Economy
"Effective July 1, I am cutting the income tax rate for B.C.'s 40,000 small businesses to 5.5 per cent. That is lower than Alberta."
$63 million in annual savings for B.C.'s small businesses
any future reduction in Alberta's tax rate will be matched dollar for dollar
accelerating efforts to cut red tape to make it easier for businesses to grow in B.C.

Streamlining Liquor Regulations:
scrapping regulations that serve no health or safety purpose
implementing a simpler approval process that takes six to 12 weeks — instead of up to 18 months

Business Lens
implementing a new business lens that considers the potential impact of all new regulations on business
Strengthening Education and Youth Opportunities
"This budget increases core provincial education funding by $45 million to nearly $6,000 for every pupil . . . an increase of $143 per pupil."
hiring 300 more teachers this year — especially in the all-important early grades — and a total of 1,200 teachers over three years
investing $341 million to construct 13 new and replacement schools and 103 school renovations and expansions, eliminating 560 portables
creating spaces for 2,900 post-secondary students and apprentices, including 700 for high-technology
freezing tuition fees for the fourth straight year — keeping post-secondary education affordable for B.C.'s students
Personal Income Tax
"The combined impact of our tax cut in January, and the tax cut in the federal budget, is a four per cent reduction in provincial personal income tax."
by 2000 that will mean $385 million dollars back into the pockets of B.C. families each year
an 8 per cent total cut in provincial income tax since 1995
British Columbia Employment Growth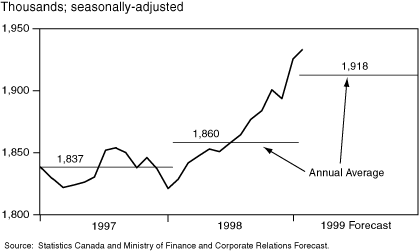 ---
For more information, contact:
Ministry of Finance and Corporate Relations
Communications Branch
126 – 553 Superior Street,
Victoria, B.C. V8W 9V1
FAX (250) 356–2822
INTERNET http://www.fin.gov.bc.ca
1–800–663–7867
---

Link to the Home Page for:

If you have questions or comments about content please contact:

---

Copyright © 1999: Queen's Printer, Victoria, British Columbia, Canada