MINISTER'S ECONOMIC OUTLOOK CONFERENCE
On February 4, the Honourable Joy K. MacPhail, Minister of Finance and Corporate Relations, met with economic experts from British Columbia and across Canada. The purpose of the meeting was to discuss the current conditions and prospects for the British Columbia economy. This is the third year in which the minister has sought the opinions and advice of independent professionals in preparation for the annual budget. Eighteen participants tabled forecasts for the economy.
As with previous round tables, the participants outlined their views of the province's economic outlook for the near term, as well as factors affecting the province's longer-term outlook.
The general view of the round table's participants was that the British Columbia economy is expected to grow at a slow pace over the next two years while the longer-term outlook is more positive. An over-riding concern expressed at the conference was that significant potential risks remain from the Asian economic upheaval and global uncertainty. In particular, a slowdown in world economic growth could depress demand for natural resources. Many participants felt that policy adjustments were needed for the British Columbia economy to achieve its full potential. Budget legislation is being introduced to formalize the economic forecasting council in statute and to require government to publish its advice.

International Developments
Participants agreed that Asia's financial and economic problems, which have overshadowed the international economy since mid-1997, will continue to play an important role in shaping events in British Columbia in the near term. Most agreed that British Columbia's extensive trade links with the Asian economic region mean that the province will continue to experience a disproportionate share of the impact from Asia's downturn.
The Japanese economy was expected to be significantly affected by problems in neighbouring economies including China, with exports reduced and its banking system plagued by bad external loans. Japan's economy was expected to contract further in 1999, following a significant decline in 1998.
Following a strong fourth quarter, the momentum in the domestic side of the United States economy is expected to carry through into 1999 but the manufacturing and export sectors of the economy will contribute to a slower pace of growth than in 1998. Contrary to fears expressed at last year's conference, some participants argued that the United States has benefited from the Asian crisis. The Asian downturn dampened inflation pressures enough to avoid an increase in short-term interest rates in spite of strong economic growth in the U.S. Economic growth in Europe was also expected to slow.

The Canadian Economy
The Canadian economy was expected to grow at a slower pace in 1999 with domestic demand the main source of growth. Most participants agreed that low interest rates and accelerating employment growth would support consumer spending on big-ticket items, business investment on machinery and equipment and residential housing construction. However, slower growth in the U.S. and reduced exports will result in slower overall economic growth in Canada. Canadian growth in 1999 was generally expected to be about 2.0 per cent, although forecasts ranged as high as 2.8 per cent and as low as 0.2 per cent. A few participants raised concerns that Canadian economic growth could be dampened by a significant slowdown in the U.S. economy.

Financial Markets
Most participants expected Canada's low inflation and the remaining gap between actual and potential output to lead to lower Canadian interest rates if U.S. rates fall. Short-term interest rates were expected to average 4.4 per cent, down from 4.7 per cent in 1998. Long-term interest rates were also expected to fall slightly from 1998 levels.
The recent appreciation of the Canadian dollar relative to its U.S. counterpart reflects a bottoming-out of commodity prices, according to some participants. Most participants believed the dollar would appreciate slowly during the next two years based on positive economic fundamentals including the general improvement in government finances. In 1999, the Canadian dollar was expected to average 66.6 cents U.S., down from 67.5 cents U.S. in 1998.

British Columbia
Participants on average expected no growth in the British Columbia economy in 1999 (see chart) after a 0.5 per cent average estimated decline in real GDP in 1998. The continued reduction in growth prospects for the Asian economies was cited as the main cause of British Columbia's lower growth outlook, in view of the province's significant trade links with that region. In addition, the slowing pace of growth south of the border was expected to reduce exports to the U.S. and contribute less to overall growth in 1999. Forecasts of real GDP growth ranged from a high of 2.0 per cent to a 2.0 per cent decline in 1999. The wide range of forecasts reflects the high degree of uncertainty in the global and local economic outlook.
The general view at the meeting was that provincial exports would continue to be adversely affected by reduced demand in Asian markets. However, declining export volumes may be partially offset by some improvement in commodity prices.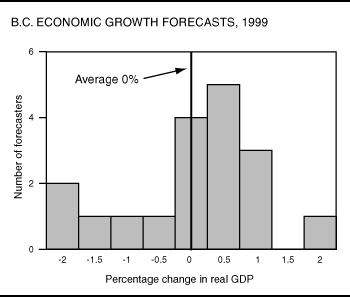 Domestic Developments
Several participants noted that slower economic growth in British Columbia relative to the other provinces has resulted in an outflow of people to other provinces. Many participants expected this to continue in 1999, but at a slower pace as the Alberta economy slows and the British Columbia economy improves. Others noted, however, that offshore in-migration could remain relatively high, offsetting lower interprovincial in-migration.
Slower population growth and declining consumer confidence were noted as factors likely to dampen consumer spending growth in 1999. However, most participants agreed that the past year's strength in employment could carry into 1999 and bolster consumer spending. Retail sales growth was expected to grow on average 0.3 per cent in 1999, although the range of forecasts was wide. Some participants expected the tourism sector to do relatively well in 1999 due to the low Canada-U.S. exchange rate.
Business investment was expected to be dampened by falling business profits while the province's housing market was expected to remain weak due to lower levels of net in-migration and low levels of consumer confidence. Although one participant expected housing starts to increase by as much as 20 per cent, most forecast housing construction to fall in 1999 predicting an average decline of 6.1 per cent.
Although British Columbia employment growth is expected to continue in 1999, most participants projected it to grow more slowly from the rate observed during 1998. Similarly, most forecast the unemployment rate to rise from its 1998 level. A couple of participants noted that year-over-year employment was up substantially in December, making low forecasts of employment growth implausible. (By February, employment was up 5.7 per cent from year-earlier levels.)
External Trade
Developments in the Asian economies were expected to shape the pattern of British Columbia trade in the near term. Growth in the U.S., Canadian and European economies is forecast to continue at a slower pace and reduced industrial activity in Japan and the rest of Asia will dampen overall exports. This decline in the volume of overall exports could be offset by a modest increase in commodity prices.
Most participants noted that commodity prices would be at or near their bottom in 1999, citing recent strength in lumber prices and stability in pulp prices. Significant downside pressure remains on newsprint, copper and other metal prices. One participant noted that further declines in prices could spur another round of downsizing in British Columbia's resource sector. Several participants noted that the recent currency devaluations would lead to more intense competition from other countries, keeping commodity prices down. Additional downward pressure on commodity prices would result from advancing technology. However, one participant noted that inventory levels in Japan were at low levels and could result in higher demand for commodities if industrial production picked up.
Many at the meeting also noted that the appreciation of the Canadian dollar against the U.S. dollar would amplify the negative impact of slower global growth.
Prices and Wages
Inflation was expected to remain low in 1999. The increase in total wage and salary income was expected to be close to the inflation rate with participants on average calling for growth of 1.2 per cent.

Outlook for 2000
Most participants were more optimistic for the province's economic prospects in 2000, with growth forecast at 1.3 per cent. The range of opinions regarding next year's growth was also narrower, with forecasts ranging between zero and 2.3 per cent growth in real GDP.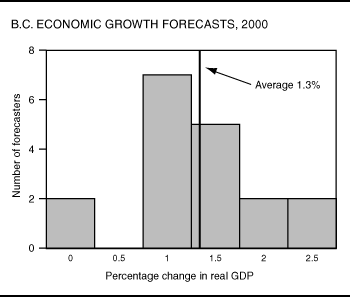 Risks to the British Columbia Outlook
While many at the meeting emphasized that the province's longer-term economic prospects were positive, most agreed that there are several risks to British Columbia's near term outlook. A major risk to the outlook, especially for 1999, remains the uncertainty about the duration of the Asian downturn. Most forecasts assume economic conditions in Japan would be weak in 1999, with at best a halt to the decline in real GDP. In addition, a possible devaluation of China's currency would affect the rest of Asia.
Other risks noted include the possibility that growth in other major trading partners, especially the United States, could be weaker than expected; several participants suggested the United States was likely to experience a recession sometime before 2000.

Medium-Term Issues
Many participants emphasized the need for the government to create conditions for stronger economic growth over the longer term by improving the province's business climate. They identified possible measures to enhance the province's competitiveness, such as reducing regulation and costs in resource industries, all with a view to stimulating business investment. A number of participants also argued the case for further cuts in business and personal taxes.
Other medium-term issues discussed at the conference included:
Continued out-migration to other provinces from British Columbia.
Wealth effects and their impact on consumers savings rate and spending habits.
The possibility of a boost in economic activity as a result of the Year 2000 date change.
The divergence of part-time and full-time employment growth.
Participants also agreed that productivity growth was necessary for British Columbians to compete successfully in the global economy and improve their standard of living.
---
The Ministry of Finance and Corporate Relations extends its thanks to all the participants in the Minister's outlook conference.
Conference Participants:
Rod Dobell
(Conference Moderator)
University of Victoria
Peter Hall
Conference Board of Canada
Carl Sonnen
Informetrica Ltd.
Teresa Courchene1
Toronto Dominion Bank
Linda Nazareth
Canadian Imperial Bank of Commerce
Lise Bastarache
Royal Bank
Tim O'Neill
Bank of Montreal
Warren Jestin
Scotiabank
Jock Finlayson
Business Council of British Columbia
Victor Godin
Vancouver Board of Trade
George Pedersson
G.A. Pedersson & Associates
Ernie Stokes
Stokes Economic Consulting
David Baxter
Urban Futures Institute
John de Wolf
CCG Consulting
William Tharp
M. Murenbeeld & Associates
Ken Peacock
Credit Union Central of British Columbia
Dale Orr
WEFA Canada
John Helliwell
University of British Columbia
Michael Goldberg
University of British Columbia

| | |
| --- | --- |
| 1 | Responded to economic outlook survey but did not attend the conference. |
Forecast Survey
All figures are based on
annual averages
1999
Range of
Participants'
Opinions
1999
Average of
Participants'
Opinions 1
2000
Range of
Participants'
Opinions
2000
Average of
Participants'
Opinions 1

Canada
— Real GDP (% change)
— 3-month interest rates
— 10-year (+ over) interest rates (%)
— Exchange rate (USą/Can.$)

0.2-2.8
3.6-4.9
4.4-5.8
62.3-68.8

2.0 (18)
4.4 (17)
5.2 (17)
66.6 (17)

0.6-3.5
2.9-5.2
4.2-6.2
62.5-72.0

2.3 (18)
4.5 (17)
5.4 (17)
68.4 (17)

British Columbia
— Real GDP (% change)
— Employment (% change)
— Unemployment rate (%)
— Total wage and salary income (% change)
— Corporate pre-tax profits (% change)
— Real business non-res. investment (% change)
— Goods and services export price deflator (% change)
— Housing starts (% change)
— Retail sales (% change)

-2.0-2.0
-1.6-1.6
8.4-10.1
-0.5-3.0
-12.0-2.0
-5.0-7.5
0.0-2.1
-19.5-20.0
-4.2-4.7

0.0 (18)
0.7 (17)
9.2 (17)
1.2 (10)
-5.0 (8)
1.7 (7)
1.3 (4)
-6.1 (17)
0.3 (14)

0.0-2.3
-0.1-1.9
8.0-10.1
0.0-3.8
-8.0-139.0
-0.8-6.4
0.0-4.3
-10.0-35.0
0.0-3.8

1.3 (18)
1.2 (17)
9.1 (17)
2.2 (10)
26.5 (8)
2.4 (7)
2.9 (4)
10.5 (17)
1.9 (14)

| | |
| --- | --- |
| 1 | Based on responses from participants providing forecasts. Number of respondents is shown in parentheses. |