1998/99 DEBT SUMMARY
The following chart provides a breakdown of estimated provincial net debt outstanding at March 31, 1999. Further details are provided in Tables B6 and H7.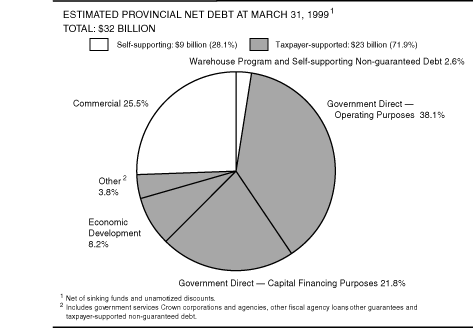 Taxpayer-Supported Debt:
Provincial government direct debt:
funds government operations, including refinancing of maturing debt and other financing transactions, and
funds capital advances to construct education, health and public transit infrastructure. These advances are amortized over the expected life of the underlying assets.
Economic development Crown corporations and agencies finance ferry terminal and fleet expansions, highway construction projects around the province, and convention facilities in Vancouver. Crown corporations and agencies amortize these capital costs over the expected life of the assets. Although these corporations and agencies sell services directly to the public, their revenue may not totally cover their operating expenses. In these cases, the government may provide grants or other forms of assistance.
Government services Crown corporations and agencies and other fiscal agency loans finance the construction of justice facilities, government and other accommodation requirements, post-secondary residence and parking facilities, and loans through the Homeowner Protection Office. Debt service requirements are largely met through provincial grants, rental payments and user fees.
Loan guarantees to private sector firms and individuals are provided by the provincial government through various programs including student financial assistance. Loan guarantees do not represent direct obligations of the government except in the event of default by the borrowers who received the guarantee.
Non-guaranteed debt consists primarily of mortgages that were incurred by a government body without a provincial guarantee. Debt service requirements are met through user fees.

Self-Supporting Debt:
Commercial Crown corporations finance the construction and maintenance of electricity transmission lines and generating facilities, a rail system and dock facilities, and a forest products operation. These entities are self-sufficient as they generate revenue from the sale of services at commercial rates and pay their own operating expenses, including debt service charges.
Warehouse borrowing program takes advantage of market opportunities to borrow money in advance of actual requirements. This debt will eventually be allocated to either the provincial government or its Crown corporations and agencies to meet future requirements.
Non-guaranteed debt represents debt that was incurred by a self-supporting government body without a provincial guarantee. Debt service requirements are met through sales of services at commercial rates.