PREPARING THE PROVINCIAL GOVERNMENT FOR Y2K
The government of British Columbia is preparing its computer systems against the potential impact of the Year 2000 (Y2K) date change. The primary goal of this effort is to protect the interests of British Columbians with regard to essential government services and the economy.
Achieving Y2K readiness is a priority of the provincial government. Planning and preparation began in 1996. Overall, the government identified more than 1,200 ministry systems affected by Y2K. Repairs began in 1997/98 and are nearing completion.
The cost to prepare government ministries for Y2K is estimated at $70 million over the three-year period from 1997/1998 to 1999/2000. These expenditures are vital to minimize the potential impact of Y2K on public services, the economy and citizens of British Columbia.
Repairing systems that support essential services
The provincial government has identified mission-critical projects where a system failure could potentially lead to loss of life, personal hardship to citizens, major damage to the environment, or substantial loss of government revenue. These projects are scheduled to be ready* by the end of September 1999, with over 90 per cent scheduled to be Y2K ready by the end of June 1999. A number of these projects are in final testing. Many vital systems such as BC Benefits and key revenue systems of the Ministry of Finance are ready now. Public updates on progress are being made throughout 1999.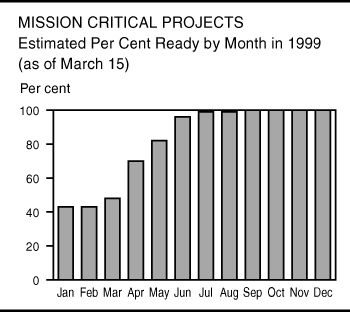 * "Ready" means that identified problems have been remedied and tested where required and/or business continuation plans and work-arounds are in place such that no disruption to normal business operations is expected.
Government has also identified its business priority systems that could lead to the loss of a major business function but that are not considered essential under the guidelines for mission-critical systems. These systems are also being made Y2K-ready by the ministries.
Support to business
The provincial government is making information available to local governments and businesses to help them prepare and protect communities and economies. As businesses and organizations fix their own Y2K problems, they must also work with their larger network of suppliers and customers to ensure Y2K readiness of any inter-related or co-dependent systems.
Informing the public
Under the direction of government's Action2000 Project Office, a team of Y2K professionals has been visiting communities around British Columbia since September 1998. During these visits, meetings are held with local governments, businesses, service providers and residents to discuss steps they can take to address Y2K.
In addition, the government has a Web site with information for businesses, municipalities and individual citizens. It can be found at http://www.y2k.gov.bc.ca . Publications include the RU Y2K OK, BC? Quiz and Booklet for businesses, and the Y2K Action Plan which details the provincial government's response to Y2K.
Contingency planning
While concerted effort is being made to minimize disruptions, some inconvenience might take place in both public and private services. There are no guarantees regarding Y2K. This uncertainty is recognized in the government's plans for 1999. Ministries are updating their business continuation plans for Y2K.
Throughout 1999, key government agencies such as the Provincial Emergency Program are preparing for Y2K contingencies.
For further information, contact the Action2000 Project Office at:
email: Action2000@gems3.gov.bc.ca
Internet URL: http://www.y2k.gov.bc.ca