THE ECONOMIC FORECAST COUNCIL
Background
The Economic Forecast Council (the Council) was established by legislation last year as part of the government's commitment to implement recommendations of the Auditor General's report, A Review of the Estimates Process in British Columbia. The Council is the successor to the economic forecasting conferences held in the previous three years. The Honourable Paul Ramsey, Minister of Finance and Corporate Relations, appointed the 18 members of the Forecast Council by ministerial order. The Council members were chosen based on their expert knowledge of the British Columbia, Canadian and world economies, their economic forecasting experience, and familiarity with current economic developments.
Council members were asked to submit a forecast survey prior to the inaugural meeting on January 27, 2000. Seventeen participants tabled forecasts for the economy. The results are summarized in the table at the end of this Topic Box.
As in the preceding economic forecast conferences, the Council members discussed their views of the province's economic outlook for the near term, as well as factors affecting the province's longer-term outlook.
Report on Forecast Council Meeting
The general view of the Council was that the British Columbia economy will post stronger growth in 2000 and 2001, although there is a risk that higher interest rates could derail a recovery in the interest-sensitive housing and consumer goods sectors. Most participants agreed that economic growth in the United States has played a significant role in the province's recovery to date and the Council expected slower growth south of the border to result in lower exports. Asian growth is expected to pick up although participants expressed concerns about the longer-term prospects for Japan, a key market for British Columbia goods.
International Developments
Participants agreed that the United States economic expansion would slow in 2000 and 2001. There were two views about the extent of the slowdown. Most Council members expected the U.S. Federal Reserve ("the Fed") to raise interest rates moderately during the next six months, slowing the U.S. economy and keeping inflation under control. However, other participants warned that the Fed could act more aggressively to curb emerging inflation, raising interest rates more than expected. This could lead to a stock market correction that would then feed back into lower consumer spending as investors see their wealth decline. In either case, the British Columbia economy would be faced with slower growth of its major trading partner.
On balance, participants agreed that for 2000, growth in the U.S. would stay in the 3 to 4 per cent range because it would take some time for higher interest rates to have an impact and they expected the U.S. economy to end 1999 at a high level.
Overseas, the outlook was positive but the Council still had reservations about the Japanese economic recovery. Participants agreed that the recovery in Japan's economy is not yet on solid footing but that British Columbia was well positioned to benefit from any improvements. The future of other Asian countries is also tied to economic developments in China. One participant who had recently visited several Asian countries noted the building momentum in these economies. The European economies were expected to post stronger growth in 2000 than in 1999.
Continued growth in the U.S., Asia and Europe was expected to support commodity prices in the short-term.
The Canadian Economy
The Council expected the Canadian economy to grow at a slower but still respectable pace during the next two years alongside the slowdown in the U.S. economy. The consensus was that Canadian economic growth in 2000 would average 3.3 per cent; forecasts ranged from 2.8 per cent to 3.9 per cent.
Financial Markets
Council members expected that the Bank of Canada would raise short-term interest rates in 2000. Although inflation in Canada was likely to be lower than in the United States, the Council felt that the Canadian economy was operating close to potential and some hike in interest rates would be needed to keep inflation in the 1 to 3 per cent target range. Short-term interest rates were expected to rise to an average of 5.25 per cent in 2000, up from 4.68 per cent in 1999. Long-term interest rates were also expected to rise from 1999 levels.
With strong global growth contributing to demand for commodities and higher commodity prices, the Council forecast that the Canadian dollar would appreciate to 69.9 cents U.S. on average in 2000 and 71.2 cents in 2001, up from 67.3 cents in 1999. Only one Council member forecast that the Canadian dollar would depreciate in the next two years.
British Columbia
Participants on average expected real GDP growth of 2.2 per cent in 2000, following average estimated growth of 1.2 per cent in 1999. The current-year forecast range was much narrower this year than last. Forecasts ranged from 1.7 per cent to 2.8 per cent in 2000, compared to -2.0 per cent to 2.0 per cent last year. Anticipated sources of growth included continued increases in exports and manufacturing shipments as well as a broadening of the recovery to the domestic side of the British Columbia economy.
External Developments
British Columbia exports were expected to continue to contribute to economic growth in the province, with the U.S. remaining the dominant market. The gradual improvement in the Japanese economy was expected to lead to growth in Japan's share of the province's exports as the U.S. economy slows.
Most participants noted that commodity prices would rise in 2000, but this would be partly offset by an appreciating Canadian dollar. It was also noted that price trends would vary widely by commodity. Metals and pulp prices were expected to rise as demand increased. However, lumber prices would be stable or decline as U.S. housing starts were expected to slow.
Domestic Developments
Consumer spending growth was expected to increase in 2000, reflecting recent employment and income gains. Employment, on average, was expected to rise at the same pace as in 1999, adding about 34,200 jobs. Most participants anticipated a decline in the unemployment rate in 2000. On average, the unemployment rate was expected to be 8.0 per cent, down from 8.3 per cent in 1999.
Along with employment growth of 1.9 per cent, total wage and salary income was expected to increase 2.6 per cent on average in 2000, up from 2.2 per cent in 1999. One participant anticipated that British Columbia's real personal disposable income per person would rise in 2000 following several years of decline, citing rising employment and wages, and federal and provincial income tax cuts.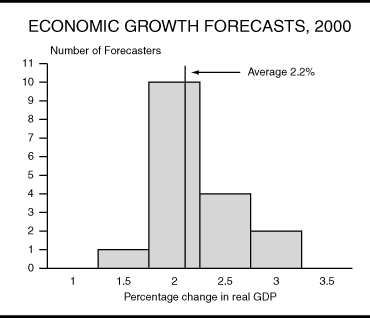 Most participants anticipated higher growth in retail sales. On average, Council members expected retail sales to increase 3.0 per cent in 2000, a significant improvement from the 1.8 per cent growth posted in 1999. Pent-up demand and growth in total wage and salary income should contribute to the stronger growth in income spending. A recovery in the housing sector was also expected to flow through to higher sales of household-related goods, including furnishings and appliances.
Housing starts were expected to grow 12.2 per cent on average to 18,300 units in 2000, up from 16,309 units in 1999. The outlook for residential construction depends on interest rates, population growth and household formation. One participant noted that the range in the housing outlook — from a 3.0 per cent decline to a 34.9 per cent increase — was related to different assumptions on changes in the province's population. One Council member said that if interprovincial net migration does not increase significantly from 1999, housing starts could decline in 2000. Another participant noted that declining existing home sales during the second half of 1999 could indicate a slowdown in the housing sector and lead to reduced housing starts this year.
Profits in the forest sector were up significantly during 1999 following losses in 1998. Business investment was expected to pick up on average as corporate profits improve. One participant noted that there was an apparent failure of some businesses to take an objective read of the provincial economy in making business investment decisions.
In total, 17 Council members submitted forecasts for real GDP. However, forecasts for some variables including total wage and salary income, profits, business investment and goods and services export prices were omitted by several members.
Outlook for 2001
The range of real GDP forecasts was wider for 2001, from 0.5 per cent to 3.7 per cent. Most Council members expected stronger growth than in 2000 but three participants expected growth to slow. On average, real GDP in British Columbia was expected to increase 2.5 per cent in 2001.
One of the Council members who predicted slower growth expected stronger-than-expected interest rate hikes by the U.S. Federal Reserve that would dramatically slow economic growth in the United States. Others anticipated less of a lift in commodity prices than in 2000.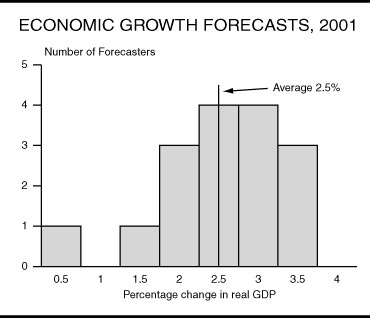 Risks to the Outlook
The Council discussed upside and downside risks facing the British Columbia economy during the next two years.
On the upside, risks included:
stronger than anticipated U.S. growth; and
higher commodity prices along with stronger global growth.
On the downside, risks included:
a stock market correction of greater than 10 per cent in the U.S.;
higher short- and long-term interest rates; and
a U.S. recession.
Most participants anticipated a one-half to three-quarter percentage point increase in short-term interest rates to 6.25 per cent would be enough to bring about a "soft-landing" in the United States. However, a couple of Council members noted the risk of a significant depreciation of the U.S. currency leading to higher inflation and a more aggressive 1 percentage point or greater increase. Interest rate increases of this magnitude could derail a recovery in British Columbia's housing sector. They could also cause a sharp slowdown in U.S. housing starts and British Columbia lumber exports.
A major stock market correction in the U.S. was not expected to pose a significant risk to British Columbia. Participants noted the wealth effect (decrease in wealth leading to lower spending) has been smaller historically than the real estate effect (decrease/increase in wealth from real estate holdings leading to lower/higher consumer spending). Others noted the October 1987 stock market correction did not appear to have affected the British Columbia economy (although economic conditions now are different). One participant noted that the U.S. stock market run-up may turn out to benefit the British Columbia economy as more people hold investments in funds that include U.S. equities. A contrary point was made by another Council member who argued that Canadian investors were jumping into U.S. equity mutual funds at just the wrong time (i.e., at a U.S. market peak).
Policy Discussion
Council members discussed fiscal policy options with the Minister of Finance and Corporate Relations during the January 27th meeting. There was a wide range of opinion among the Council members about the appropriate direction of fiscal policy. Some Council members advocated tax cuts as a higher priority than balancing the budget. Others stressed the importance of eliminating the deficit first. One participant suggested that British Columbia's higher marginal tax rate was a premium some people were willing to pay to live in this province, but with taxes falling in other jurisdictions, British Columbia would have to follow suit. Others said that the province's attractiveness was not enough to make up for the higher marginal tax rate.
Several Council members also cautioned government about the pitfalls of supporting specific industries using targeted financial support, rather than levelling the playing field by removing general impediments to business.
The Ministry of Finance and Corporate Relations would like to thank all the participants in the inaugural meeting of the Economic Forecast Council.
Economic Forecast Council Members/Delegates*:
| | | |
| --- | --- | --- |
| | Rod Dobell (Moderator) | University of Victoria |
| | Paul Darby* | Conference Board of Canada |
| | Carl Sonnen | Informetrica Ltd. |
| | Teresa Courchene* | Toronto Dominion Bank |
| | Alister Smith* | Canadian Imperial Bank of Commerce |
| | John McCallum | Royal Bank |
| | Tim O'Neill | Bank of Montreal |
| | Mary Webb* | Scotiabank |
| | Jock Finlayson | Business Council of British Columbia |
| | Dave Park | Vancouver Board of Trade |
| | George Pedersson | G.A. Pedersson & Associates |
| | Ernie Stokes | Stokes Economic Consulting |
| | John de Wolf | CCG Consulting |
| | William Tharp | M. Murenbeeld & Associates |
| | Ken Peacock* | Credit Union Central of British Columbia |
| | Dale Orr | WEFA Canada |
| | John Helliwell | University of British Columbia |
| | Michael Goldberg | University of British Columbia |
| | Paul Bowles | University of Northern British Columbia |
---

Forecast Survey

---

All figures are based on
annual averages

2000
Range of
Participants'
Opinions
2000
Average of
Participants'
Opinions1
2001
Range of
Participants'
Opinions
2001
Average of
Participants'
Opinions1

---

Canada
—
Real GDP (% change)
2.8 - 3.9
3.3 (17)
1.0 - 3.6
2.8 (17)
—
3-month interest rates (%)
4.80 - 5.68
5.25 (16)
4.20 - 6.25
5.16 (16)
—
10-year (+ over) interest rates (%)
5.80 - 7.10
6.40 (15)
5.40 - 7.30
6.16 (15)
—
Exchange rate (US'/Can.$)
68.80 - 72.00
69.86 (15)
65.00 - 75.00
71.23 (15)
British Columbia
—
Real GDP (% change)
1.7 - 2.8
2.2 (17)
0.5 - 3.7
2.5 (16)
—
Employment (% change)
0.8 - 3.0
1.9 (15)
0.5 - 3.2
2.0 (14)
—
Unemployment rate (%)
7.0 - 8.8
8.0 (15)
6.9 - 9.2
8.0 (14)
—
Total wage and salary income (% change)
1.0 - 4.4
2.6 (9)
0.0 - 6.0
2.9 (9)
—
Corporate pre-tax profits (% change)
–4.9 - 20.0
7.4 (6)
1.1 - 15.0
6.3 (6)
—
Real business non-residential investment (% change)
1.5 - 8.0
3.9 (6)
2.5 - 15.0
5.6 (6)
—
Goods and services export price deflator (% change)
1.2 - 5.0
2.5 (5)
0.0 - 10.0
3.1 (5)
—
Housing starts (% change)
–3.0 - 34.9
12.2 (14)
–5.0 - 50.0
13.4 (14)
—
Retail sales (% change)
1.0 - 4.5
3.0 (13)
1.0 - 7.0
3.2 (12)

| | |
| --- | --- |
| 1 | Based on responses from participants providing forecasts. The number of respondents is shown in parentheses. |

---