THE REGIONAL ECONOMIES
The modest recovery of the provincial economy in 1999 was led by the two major metropolitan regions. However, regions outside southwest British Columbia experienced a mixed performance. A booming U.S. economy, faster-than-expected Asian recovery, and rising commodity prices benefited parts of the resource sector, but restructuring and cost cutting took their toll on employment in some regions. Housing markets showed signs of improvement, but starts fell below last year's levels due to slow population growth in most regions and fragile consumer confidence. Retail spending grew slowly across B.C. Meanwhile, a small but fast-growing non-resource based new economy is emerging in different sizes and shapes in the regions.
Population
British Columbia's population grew an estimated 0.6 per cent in 1999. The slow population growth was mainly due to lower levels of net in-migration from other provinces. All regions experienced some population growth, although there was virtually no growth in the Vancouver Island/Coast, Cariboo and North Coast/Nechako regions. The Mainland/Southwest led all regions. Among smaller local areas, population grew the fastest in the East Kootenay and Squamish-Lillooet regional districts (which encompasses the booming town of Whistler).
Employment and Labour Markets
In 1999, the Vancouver Island/Coast and Mainland/Southwest regions accounted for most of the province's employment growth. Employment declined in all other regions, perhaps reflecting the delayed impact of the downturn in the resource sector in 1998.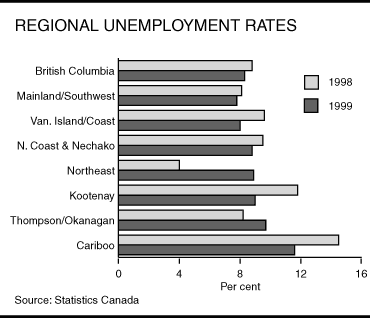 The Northeast region experienced the largest decline in employment, as difficulties in the agricultural sector offset a boom in the energy industry.
Despite declines in employment, the unemployment rate fell in the North Coast/Nechako and two Interior regions (see chart). This reflects a shrinking labour force, possibly caused by out-migration and early retirement.
Housing Markets and Construction
The net outflow of people to other provinces and low levels of consumer confidence contributed to generally weak housing markets across the province. Housing starts declined in most urban centres (see chart).
Although provincial housing starts were weak, existing home sales rose 9.8 per cent in 1999. Greater Vancouver topped the province with a 17 per cent rise, followed by a 13 per cent increase in the north Okanagan. The Chilliwack area was the only region that experienced a significant decline in sales. Existing home prices rose 1.5 per cent on average across the province, with six of eleven regional real estate boards reporting increases.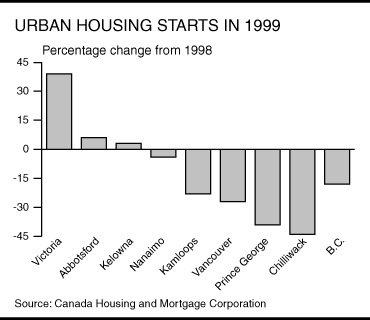 The value of non-residential building permits rose 4 per cent in British Columbia in 1999. The Kootenay region recorded the largest percentage gain (see chart), related to development of ski resorts and recreational facilities. The Vancouver Island/Coast region was close behind with major projects such as the construction of the Island cogeneration project in Campbell River, the West Coast General Hospital in Port Alberni and the Reef Point Resort in Ucluelet boosting construction.
Major projects currently underway in various regions include:
the $500-million Predator Ridge golf resort development near Vernon;
a $258-million expenditure on three Louisiana Pacific wood product mills in Dawson Creek and Chetwynd;
the $200-million Sierra-Ekwan gas plant and expansion east of Fort Nelson;
the $200-million Big White ski resort expansion near Kelowna;
the $200-million Furry Creek recreation/residential project near Squamish;
the $150-million Golden Peaks ski resort near Golden;
the $25-million Hotel Grand Pacific expansion in Victoria;
a $23-million recreation complex in Cranbrook; and
the Alliance Pipeline project from Fort St. John to the Alberta border.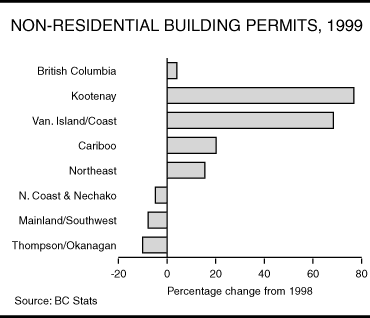 Regional Resource Sector Developments
For the resource sector, 1999 was a year of restructuring and recovery, although conditions varied widely from industry to industry.
A robust U.S. housing market and rising lumber and pulp prices helped the forest industry rebound in 1999. After a combined loss of $1 billion in 1998, publicly-traded British Columbia forest companies earned $600 million in 1999. Timber harvest and lumber production levels soared from depressed 1998 levels in the Interior and on the Coast.
In contrast to the forest industry, mining output declined in 1999 as a result of the lengthy labour dispute at the Highland Valley Mine in Logan Lake, and the closure of the Blackdome mine at 100 Mile House, the Snip mine near Smithers and the Parson mine near Golden. On March 1, 2000, Teck Corporation announced that it would permanently close the Quintette coal mine at Tumbler Ridge on August 31 due to low prices and high production costs. The mine accounted for about 10 per cent of the province's production of metallurgical coal in 1999.
Strong economic growth and rising energy demand in North America contributed to strong growth in oil and gas activity in the Northeast. Sales of Crown drilling rights almost doubled in 1999, and the value of natural gas production rose 24 per cent. During the first 10 months of 1999, 522 wells were drilled, close to 1998's record levels. The Northeast's agriculture sector suffered from low grain prices, offsetting the boom in the oil and gas sector.
Coastal regions dependent on the fishery continued to face challenges due to harvesting restrictions and capacity reductions. However, fishing employment rose last year after bottoming out in 1998, and the value of fish exports rose almost 5 per cent.
In 1999, British Columbia farm cash receipts rose 7.4 per cent, well above the national increase of 2.2 per cent. Areas of strength included poultry and other livestock, berries and grapes, floriculture and nursery products. Cash receipts from canola, barley, oats and tree fruit declined.
Development of More Diversified Regional Economies
Regional economies continued to diversify into non-resource activities in 1999, ranging from new high-tech ventures to expansion of value-added manufacturing and food processing, and new industries such as "nutraceuticals" (natural health products). For example, Western Star Trucks expanded the production capacity of its Kelowna facility.

High-tech industries
The British Columbia high-tech sector continues to grow at a rapid rate compared to the rest of the economy.
Although the Greater Vancouver and Victoria areas remain the main location of British Columbia's high-tech sector, every region has several success stories. The number of high-tech establishments outside Greater Vancouver and Victoria increased 62 per cent between 1994 and 1998 (see chart). Regional centres such as Prince George and Kelowna are beginning to develop clusters of high-tech start-up companies.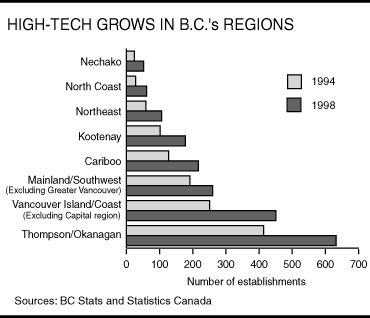 Agri-food sector
Several small but fast-growing new product areas contributed to a more diversified agri-food sector: expanded hothouse and organic farming and nutraceuticals. In addition, the province's wine industry expanded.
Fuelled by demand from the U.S., production of hothouse vegetables in the Fraser Valley and Delta areas grew rapidly in 1999. As well, organic produce is grown in all regions of the province and the number of certified organic farmers doubled last year.
A notable new industry was the fast-growing nutraceuticals sector. The Ministry of Agriculture, Food and Fisheries estimates that retail sales of these products in British Columbia totalled $200 million in 1999. As in any new, fast-growing industry, numerous firms have entered the market and overcapacity for some products has resulted. Recently, Langley-based Chai-Na-Ta Corporation, North America's biggest ginseng producer, filed for court protection from its creditors. Ginseng prices peaked at nearly US$50/pound in the 1990s and are now less than $10/pound, due to reduced demand from China and increased supply in North America.

Tourism
In 1999, the number of international visitors to the province rose 5.4 per cent. As a result, tourism room revenue was up 10.4 per cent through November 1999. Room revenue grew in five of eight regions (see chart).